Memory is Your Image of Perfection is the seventh episode of Season 3 of Switched at Birth. It is scheduled to air in February 24, 2014.
Summary
Bay gets bad news from the doctor: Her injury is worse than it originally appeared. Melody is confused by Travis's behavior and why he didn't attend his college interview. Kathryn and John's marriage is in trouble and both Toby and Bay plot to bring their parents together. Daphne tries to help Sharee, Regina and Adrianna are at odds over Regina's new project.
Synopsis
John temporarily moves in with Toby, who is less than thrilled about the situation. Toby and Bay try to get their parents to reconnect over dessert, though Kathryn is adamant about finding her own independence. John can't accept the fact that she might've been unhappy for a while. Melody preps Travis for an important college interview that he ends up skipping. Regina is in hot water with her boss after Adrianna speaks out at a meeting against renovating East Riverside. Also, Daphne is still trying to convince Sharee to get her mother some help with her mental issues. When Sharee finally agrees to take her mother to the clinic that Daphne works at, Sharee's mother stabs the doctor in the midst of a freakout. A terrified Daphne must figure out what to do as she finds him in a critical condition. Bay comes across serious problems with her injured hand that could affect her projected art career.
Cast
Main Cast
Recurring Cast
Featured Music
Quotes
Gallery
Video Gallery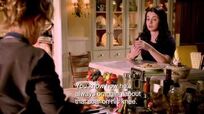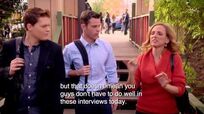 Trivia
Title reference: From the 1982 photograph, Memory is Your Image of Perfection, by Barbara Kruger.
Ad blocker interference detected!
Wikia is a free-to-use site that makes money from advertising. We have a modified experience for viewers using ad blockers

Wikia is not accessible if you've made further modifications. Remove the custom ad blocker rule(s) and the page will load as expected.