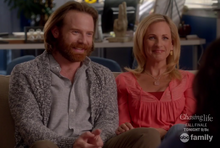 Gabe is the fiance of Melody Bledsoe. Melody and him first meet when he sets up Cameron's C.I. (cochlear implant). He asks Cameron to give Melody his phone number. He speaks fluent sign language and mentions that his father is deaf. On Melody and his second date he takes her to Cameron's (her ex-husband) house warming party/surprise wedding/baby revealing party.
He proposes to Melody on season 4 episode 16. They go through the process of adoption in the next couple of episodes.
Throughout the series Gabe works as a C.I. operator (mentioned above) he sets up Cameron Bledsoe's. He then does volunteer work helping hand out hearing aids to those less fortunate in developing countries.
He loves Melody
Ad blocker interference detected!
Wikia is a free-to-use site that makes money from advertising. We have a modified experience for viewers using ad blockers

Wikia is not accessible if you've made further modifications. Remove the custom ad blocker rule(s) and the page will load as expected.