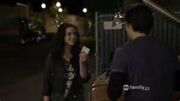 Background
Edit
East Riverside is a working class neighborhood, and the former residence of Adrianna, Regina and Daphne Vasquez. Apparently it has a somewhat high crime rate, because Bonnie Tamblyn-Dixon is horrified to learn that her biological granddaughter was raised in the area. Daphne replies that East Riverside has "many different parts".
When first meeting Bay Kennish, Ty Mendosa assumes she is in East Riverside to purchase marijuana.
ResidentsEdit
Ty's great-aunt (presumably)
Former Residents
Edit
Ad blocker interference detected!
Wikia is a free-to-use site that makes money from advertising. We have a modified experience for viewers using ad blockers

Wikia is not accessible if you've made further modifications. Remove the custom ad blocker rule(s) and the page will load as expected.