Bay Madeline Kennish was born in the early morning of October 22, 1995 at 1:22am to biological parents Regina Vasquez and Angelo Sorrento but was raised by Kathryn Kennish, a stay at home mother, and John Kennish, former pro third baseman, alongside their older son Toby. Bay is a couple of minutes older than Daphne. She is portrayed by Vanessa Marano.
Physical Appearance & ​Personality
Edit
Personality
Edit
Bay is a strong-willed, impulsive, stubborn, smart, sarcastic, headstrong, funny, talented former graffiti artist with a wild streak. She says whatever she wants without thinking of how it will affect people.She is sometimes shown to be a angry person. Bay has a passion for art and a bad temper, like her biological mother, Regina, but she also has a sweet and thoughtful side to her.
Physical Appearance
Edit
Bay has pale skin, long dark-brown curly hair, and dark brown eyes. Bay has an edgy, artsy style. She has expressive eyebrows, and a large smile. Bay is 5'4". She has a Slim body type. Bay is told by Adrianna, Melody and Regina's ex boyfriend Zane that Bay looks just like Regina.
Relationship
Edit
To be added
To be added
To be added
To be added
To be added
To be added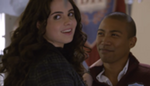 (ex-boyfriend)
First Relationship:

Start Up: Before This Is Not a Pipe(1x01)
Break Up: This Is Not a Pipe (1x01)

Reason: Bay suggested they take a break after a fight. The next day, Bay acted like nothing had happened, but Liam told her he was sick of her behavior, caused by the switch, and broke up with her.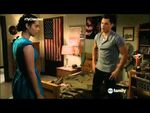 Tyler "Ty" Mendosa (ex-boyfriend)

First Relationship:

Start Up: American Gothic (1x02)
Break Up: Dogs Playing Poker (1x05)

Reason: Ty left to enlist in the military, so Bay broke up with him over the phone but he and Bay remained friends and kept in touch. However, until Write a Lonely Soldier, Ty thought that they would pick up where they left off when his tour was over. Bay informed him that she was seeing Emmett.

Second Relationship:

Start Up: He Did What He Wanted (2x14)
Break Up: Departure of Summer (2x21)
Reason: Bay discovered Ty "cheating" on her when she saw a girl underwear fall out his bed then she saw a condom wrapper on the floor and she thinks he slept with Aide he made her believe he did Bay broke up with him but she doesn't know that Ty faked it because he was being deployed to an area worse then he thought.
Emmett Bledsoe (Boyfriend/Madly In Love With)

First Relationship:

Start Up: The Stag Hunt (1x07)
Break Up: The Homecoming (1x10)

Reason: Emmett felt that they could never really understand each other, because Bay was hearing whereas he is deaf and sees the world differently.

Second Relationship:
Third Relationship: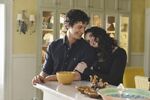 First Relationship:

Start Up: Human/Need/Desire (2x06)
Break Up: Introducing the Miracle (2x10)

Reason: Bay breaks up with Noah after Emmett told Bay that Noah and Daphne kissed. Though they were rehearsing for the play, Romeo and Juliet, when Bay confronted Noah about it, he admitted that he and Daphne have a connection that he couldn't avoid.
Tank (ex-boyfriend)

First Relationship

Start Up: The Scream (3x06)
Break Up: Like a Snowball Down a Mountain (3x13)

Reason: Bay wanted to go back with Emmett. She tried letting him down easily by simply saying they should go back to being friends, but later Tank found out from John that Bay slept with someone. He confronted Bay on this, and she admitted it was Emmett.
Bay and Simone met in kindergarden and were best friends until they were in the eigth grade, when they gave a girl named Alicia a makeover because she wanted to fit in with them. During the makeover, the two girls asked Alicia who she liked. She told them she liked a hockey player named Tom Burke, and they told her to practice asking him out while Simone filmed it. The two girls watched the video, and in the end Bay told Simone not to send it to anyone because it was too embarrassing. However, Simone sent it to everyone in school. This caused Bay and Simone's friendship to end and Alicia to move out of town. Bay stated that Simone was too controlling and that it was too much for her. Their relationship becomes further complicated when Simone sleeps with Bay's then-boyfriend, Emmett, after the basketball tournament.
To be added.
To be added.
When Bay starting going to Carlton, many deaf students were not welcoming towards her. Natalie especially did not like Bay. They had a fierce feud going on until Melody decided to call for a retreat. There, Bay and Natalie worked out their differences, and saw that they had much in common. After the retreat, Bay and Natalie called a truce and became friends.
Bay became friends with Mary Beth when she began working at the Maui Carnival. They also have a mutual friend in Ty. Though they are good friends, Mary Beth has disapproved of Bay's relationship with Tank after his fraternity humiliated her.
Photo Gallery
Edit