Bay Madeline Kennish

'
Basic Information
Birth Name
Bay Madeline Kennish
Nickname(s)
None
Age
18
Gender
Female
Birthdate
October 22, 1995
Ethnicity
Puerto Rican, Italian, French, Algerian, Arab
Occupations
*High school student at
Buckner Hall (formerly)
Status
In a relationship with
Emmett Bledsoe
Family Members
Parents
Regina Vasquez (biological mother)
Angelo Sorrento (biological father)†
Kathryn Kennish (legal mother)
John Kennish (legal father)
Grandparents
Adrianna Vasquez (biological maternal grandmother)

Daniel Vasquez (biological maternal grandfather) Anna Marie Sorrento (biological paternal grandmother) Bonnie Tamblyn-Dixon (legal maternal grandmother) Bill Kennish (legal paternal grandfather)

Siblings
Abby Sorrento (paternal half sister)

Daphne Vasquez (legal sister) Toby Kennish (legal brother) Nikki (former legal sister-in-law)

Uncles & Aunts
Francesca Sorrento (biological paternal aunt)†
Other Relatives
Sebastion Sorrento (biological paternal second cousin)

Felicia (biological paternal second cousin)

Show Information
Portrayed by
Vanessa Marano
First appearance
This Is Not a Pipe

Bay Madeline Kennish was born in the early morning of October 22 1995 at 1:22am to biological parents Regina Vasquez and Angelo Sorrento but was raised by Kathryn Kennish, a stay at home mother, and John Kennish, former pro third baseman, alongside their older son Toby. Bay is a couple of minutes older than Daphne.
In the first episode, through a school experiment, Bay discovers that her blood type is different from her family's. She proceeds in taking a DNA test, where Bay learns she was switched at birth with another girl, Daphne Vasquez. After meeting her, Bay, Kathryn and John find out that Daphne is deaf, and all of them are in shock. Bay meets her birth mother, Regina for the first time and Bay discovers that she and Regina have a lot in common. Bay learns that Regina has financial trouble, pushing Bay to ask Kathryn if Regina and Daphne can move into the guest house, reason being they can get to know each other. In American Gothic- Bay learns more about Regina. They are both at the guest house bonding, and Bay helps Regina paint her wall. This leads Regina to start opening up to Bay about her past drinking problems since Bay saw her AA chips and asked her what they are. In Portrait of My Father- Bay begins asking questions about her biological father, which her grandmother and Regina refuse to answer. Regina instists that "The best thing that guy ever did- was leave." Daphne gives Bay a photo of Regina when she was pregnant with Bay, which was taken by Bay's biological father. In Dance Amongst Daggers- Bay learns that Daphne is seeing her ex-boyfriend Liam, while Daphne, Kathryn, and Regina learn that Bay is seeing Ty. In Dogs Playing Poker- Bay is sad that Ty is leaving for the army. In The Persistence of Memory- Bay and Emmett bond while working together to find Bay's biological father, and they discover that his name is Angelo Sorrento. In Pandora's Box- Bay and Emmett's relationship becomes more serious when Regina reveals that she knew about the switch when Angelo had a DNA test done before deciding to leave Regina and Daphne, everyone is in shock Bay is in just as much pain. Believing that her biological mother didn't want her, Bay turns to Emmett for comfort. In Paradise Lost- Bay tells Emmett that for her birthday she wants to see her art on a billboard and enlists his help. However, before they get the chance to put her art up, the pair are caught by the police and injured while climbing a barbed wire fence to get away. Bay also meets Emmett's mother Melody, who doesn't approve of their relationship. The Vasquezes, and the Bledsoes- Regina shows up and is accepted into the party by Bay. In The Homecoming- Bay meets her biological father, Angelo Sorrento, for the first time. In Starry Night- Bay's old friend and Wilke's ex-girfriend Simone flirts with Toby. Bay crashes the festival because she hears that Daphne is there. Regina goes with Bay to see Angelo. Later Regina and Angelo get into a fight in front of Bay about the drink Angelo took back and about how Angelo forgot that Regina is sober when Bay told him before they had the meet. Both of them upset at eachother gets up and leaves Bay at the table alone. In The Tempest- Bay tries to score points with Melody but doesn't have much luck. Regina tries to help Bay with Melody at a game night, but it's not as easy as she expected which leads to Regina defending Bay and confronting Melody about her mistreatment of Bay. In Venus, Cupid, Folly, and Time- Bay gets mad at Emmett after he told her he cheated on her with Simone.
In The Door to Freedom- Bay is accused of cheating on her French exam. In The Awakening Conscience- Bay enrolls in an experimental immersion program at Carlton for hearing students who have been learning sigh language. She meets Teo, a fellow program participant and finds herself on the outs with Natalie, who bullies her because she is hearing. In Human/Need/Desire- Bay hosts an anti-Valentine's Day party and invites her hearing and deaf friends. In Drive in the Knife- Bay tells Emmett that she's in a new relationship but he kisses her. In Duel of Two Women- Bay finds herself on the wrong end of Natalie's wrath, forcing Melody to take everyone on a tolerance retreat to help bridge the divide between them. Bay bonds with Noah, who confides to her that he has Meniere's disease, Bay and Natalie declare a truce. In Tight Rope Walker- Bay tells Regina's old boyfriend Zain about her alcohol abuse. Later, Regina finds out about this and the two fight about it. Regina later comes in Bay's room to find her crying, and she apologizes for her outbursts and asks Bay to forgive her, which Bay does. In Introducing the Miracle- Emmett tells Bay about the kiss between Daphne and Noah. In Mother and Child Divided- Bay is the only one who is happy to see Regina back home from rehab. Bay is upset that Regina moved out of the guest house without telling her. In Distorted House- Bay decides to stay with Regina. In The Good Samaritan- Bay tries to help Toby find a release by booking a gig for Toby's band for the carnival, to give reprieve. Regina and Bay's messiness frustrate's Angelo. In He Did What He Wanted- Bay learns more about Mary-Beth and Ty. In The Physical Impossibility of Death in the Mind of Someone Living- Bay meets some of Ty's soldier friends. She also loses her virginity to him in this episode. In Prudence, Avarice, Lust, Justice, Anger- Bay meets her baby sister and she gets a chance to hold her. In As The Shadows Deepen- Ty tells Bay he loves her and she smiles at him. Bay learns that Ty is about to be deployed back to Afghanistan. In The Merrymakers- Bay and Daphne throw Nikki an impromtu bachelorette party. Bay moves out of Angelo's place because the baby is coming and moves back in with the Kennish's. Both Regina and Angelo are sad that Bay is moving out, but Bay tells them she will be coming by to babysit her sister anytime they need her too. Bay gives Regina and Angelo a good by hug and then leaves Angelo's place. In Departure of Summer - Bay seeks a long-distance romance with Ty in the face of his redeployment, Ty soon learns that he'll be in even more danger this time and he fears he wont come back alive, Ty feels that it is best that they part ways in case he is killed in battle. To protect Bay from the truth he pretends to cheat on her so she will break up with him and she can get over him now. The plan works and Bay goes to Emmett looking for answers and comfort.
In Drowning Girl,
In Your Body Is a Battleground,
In Fountain,
In It Hurts to Wait With Love if Love is Somewhere Else,
In Have You Really the Courage?,
In The Scream,
In Memory is Your Image of Perfection,
In Dance Me to the End of Love,
In The Past (Forgotten-Swallowed),
In The Ambush,
In Love Seduces Innocence, Pleasure Entraps, and Remorse Follows,
In Like a Snowball Down a Mountain,
In Oh, Future, Bay hangs out at Emmett's house. She tells Emmett that she wants to keep their newly rekindled relationship under the radar for the time being. Upon leaving, she overhears Melody in a video conference with someone offering her a job that would take her and Emmett out-of-state. Worried, she encourages Emmett to strengthen his relationship with his father. Emmett reluctantly decides to attend Cameron's housewarming. Melody also appears and there, she meets Bay and Emmett, who tell her that they're back together. Then, to everyone's surprise, Cameron and his girlfriend, Debbie announce that they're getting married right now. Bay then discovers a baby carriage and learns that Debbie's pregnant. She tries to tell Emmett, but he finds out on his own. Initially, he doesn't like it, but with Bay's help, he warms up to the idea. Bay later asks Melody about the job offer, and Melody reassures Bay that she has too many reasons not to move.
In Girl With Death Mask (She Plays Alone),
In And Life Begins Right Away,
Physical Appearance & ​Personality
Edit
Personality
Edit
Bay is a strong-willed, impulsive, stubborn, smart, sarcastic, headstrong, funny, talented former graffiti artist with a wild streak. She says whatever she wants without thinking of how it will affect people.She is sometimes shown to be a angry person. Bay has a passion for art and a bad temper, like her biological mother, Regina, but she also has a sweet and thoughtful side to her.
Physical Appearance
Edit
Bay has pale skin, long dark-brown curly hair, and dark brown eyes. Bay has an edgy, artsy style. She has expressive eyebrows, and a large smile. Bay is 5'4". She has a Slim body type. Bay is told by Adrianna, Melody and Regina's ex boyfriend Zane that Bay looks just like Regina.
Relationship
Edit
To be added
To be added
To be added
To be added
To be added
To be added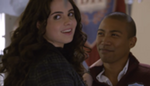 (ex-boyfriend)
First Relationship:

Start Up: Before This Is Not a Pipe(1x01)
Break Up: This Is Not a Pipe (1x01)

Reason: Bay suggested they take a break after a fight. The next day, Bay acted like nothing had happened, but Liam told her he was sick of her behavior, caused by the switch, and broke up with her.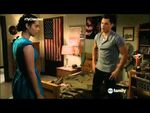 Tyler "Ty" Mendosa (ex-boyfriend)

First Relationship:

Start Up: American Gothic (1x02)
Break Up: Dogs Playing Poker (1x05)

Reason: Ty left to enlist in the military, so Bay broke up with him over the phone but he and Bay remained friends and kept in touch. However, until Write a Lonely Soldier, Ty thought that they would pick up where they left off when his tour was over. Bay informed him that she was seeing Emmett.

Second Relationship:

Start Up: He Did What He Wanted (2x14)
Break Up: Departure of Summer (2x21)
Reason: Bay discovered Ty "cheating" on her when she saw a girl underwear fall out his bed then she saw a condom wrapper on the floor and she thinks he slept with Aide he made her believe he did Bay broke up with him but she doesn't know that Ty faked it because he was being deployed to an area worse then he thought.
Emmett Bledsoe (Boyfriend)

First Relationship:

Start Up: The Stag Hunt (1x07)
Break Up: The Homecoming (1x10)

Reason: Emmett felt that they could never really understand each other, because Bay was hearing whereas he is deaf and sees the world differently.

Second Relationship:
Third Relationship: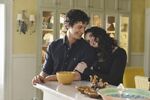 First Relationship:

Start Up: Human/Need/Desire (2x06)
Break Up: Introducing the Miracle (2x10)

Reason: Bay breaks up with Noah after Emmett told Bay that Noah and Daphne kissed. Though they were rehearsing for the play, Romeo and Juliet, when Bay confronted Noah about it, he admitted that he and Daphne have a connection that he couldn't avoid.
Tank (ex-boyfriend)

First Relationship

Start Up: The Scream (3x06)
Break Up: Like a Snowball Down a Mountain (3x13)

Reason: Bay wanted to go back with Emmett. She tried letting him down easily by simply saying they should go back to being friends, but later Tank found out from John that Bay slept with someone. He confronted Bay on this, and she admitted it was Emmett.
Bay and Simone met in kindergarden and were best friends until they were in the eigth grade, when they gave a girl named Alicia a makeover because she wanted to fit in with them. During the makeover, the two girls asked Alicia who she liked. She told them she liked a hockey player named Tom Burke, and they told her to practice asking him out while Simone filmed it. The two girls watched the video, and in the end Bay told Simone not to send it to anyone because it was too embarrassing. However, Simone sent it to everyone in school. This caused Bay and Simone's friendship to end and Alicia to move out of town. Bay stated that Simone was too controlling and that it was too much for her. Their relationship becomes further complicated when Simone sleeps with Bay's then-boyfriend, Emmett, after the basketball tournament.
To be added.
To be added.
When Bay starting going to Carlton, many deaf students were not welcoming towards her. Natalie especially did not like Bay. They had a fierce feud going on until Melody decided to call for a retreat. There, Bay and Natalie worked out their differences, and saw that they had much in common. After the retreat, Bay and Natalie called a truce and became friends.
Bay became friends with Mary Beth when she began working at the Maui Carnival. They also have a mutual friend in Ty. Though they are good friends, Mary Beth has disapproved of Bay's relationship with Tank after his fraternity humiliated her.
Photo Gallery
Edit